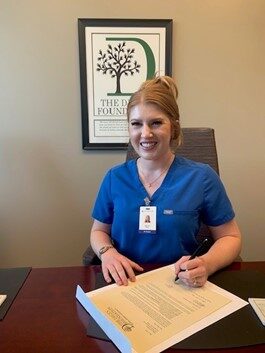 Hope Ann Harris of Van Buren, AR, and a previous Degen Scholarship award winner, received a $3,000.00 scholarship to Chamberlain University for the Fall/Spring semesters (8-week courses) as she is working towards her Family Nurse Practitioner specialty degree.
Hope Ann and her husband, Aaron, are both nurses and enjoy working in the same field. She has worked in ER and Med Surg (her favorites) and feels that is the place where she makes a difference. "I enjoy getting up for work every day. There are not many people in their career field that can say that anymore." Once she graduates, she looks forward and is excited about the opportunity to work in Sebastian County!
We love the fact that she and her husband, plan to stay in our area.