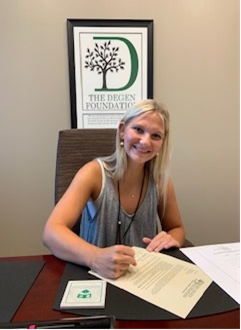 Meet Mikelle Porter of Van Buren, AR who is attending UCA with plans to obtain her Master's degree in Speech-Language Pathology. She was awarded a $3,000.00 Fall 2023 – Spring 2024 scholarship and will graduate in Summer 2025. She discovered her passion during the summer of 2020 after taking a job at a government-funded childcare facility where she interacted with multiple children who had delayed language development – which hindered their ability to communicate clearly.
She describes herself as "steadfast, hardworking, and driven. The most important things in my life are my faith and those around me that I love." Her drive and compassion will make her a wonderful Speech Pathologist!
Welcome to the Degen Family!