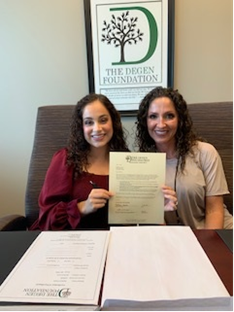 Introducing Madison Combs of Pocola, OK who received a $3000.00 F2023-S2024 Scholarship to Northeastern State University to earn her MS in Speech-Language Pathology. She is on track to graduate in Spring 2027. This bright young woman made Pocola High School history for graduating concurrently from high school AND receiving an associate degree in Sociology/Psychology from Carl Albert State College this past May!
Due to this, she is able to go straight into the program plan this Fall. Once she takes the National Certification test – she would like to work with young children to help them learn to communicate effectively as well as work with stroke victims.
She is pictured with her mother, Amanda Combs, a Nurse Practitioner and a former Degen Scholarship Recipient.
We are so proud to have you in the Degen Family, Madison!