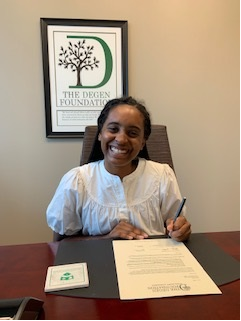 Introducing Jania Flake of Fort Smith, AR, who received a $3,000.00 F23-S24 scholarship to OSU where she will work on her MS in Athletic Training. Her anticipated graduation date is Spring 2025.
Her passion for the medical field began after sustaining an ACL and meniscus tear for which she received rehab and physical therapy. But it "intensified" after witnessing an athlete and her athletic trainer interact after an injury and she saw the relief on the athlete's face.
Jania states, "I am a passionate, charismatic, extroverted individual with an optimism about life that drives me to pursue my passions with hope and excitement." Her excitement is contagious, and we cannot wait to see Jania become a great Athletic Trainer!
The Degen Foundation will support your efforts all the way!